Towing Experts in Shepparton
Let our towing and transport specialists provide you with quick and courteous service when you need it most. We've spent the last 30 years serving families and businesses in our community of Shepparton and the surrounding areas including Kialla, Mooroopna, Ardmona, Toolamba, Lemnos, Dookie, Tallygaroopna, Undera, Katandra, Invergordon, and Nathalia.
You'll receive a personal approach from our trained professionals every step of the way, because we understand the need for efficiency whenever you require a tow. Let us assist you with the attention to detail and knowledgeable services you deserve. We are also VACC Accredited Towing Operators for your peace of mind.
We're equipped with the state of the art tools and technology we need to get the job done right the first time. Our 4 tonne tilt trays and wheel lifts are top of the line, and kept fully operational by our skilful crew. We keep the latest equipment on hand in order to offer you a superior level of service.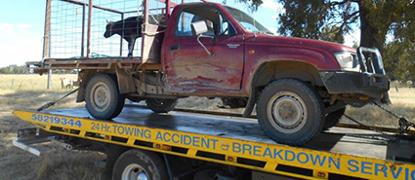 24 Hour Emergency Services
Get in touch with us in an urgent situation at any time of the day or night. We're available 24/7 for your ultimate convenience. From our flexible hours to our competitive rates, you can rely on us for reliable towing and transport services every time you call.